Joy for Neuville and Katsuta, despair for Evans
* Neuville victory marks Japan's return to the FIA World Rally Championship
* Evans had closed to within 0.6s of the lead but puncture wrecks Toyota driver's hopes
* Japanese ace Katsuta completes the podium to the delight of the home fans
* Lindholm and Hämäläinen crowned WRC2 champions, Miele wins WRC Masters' Cup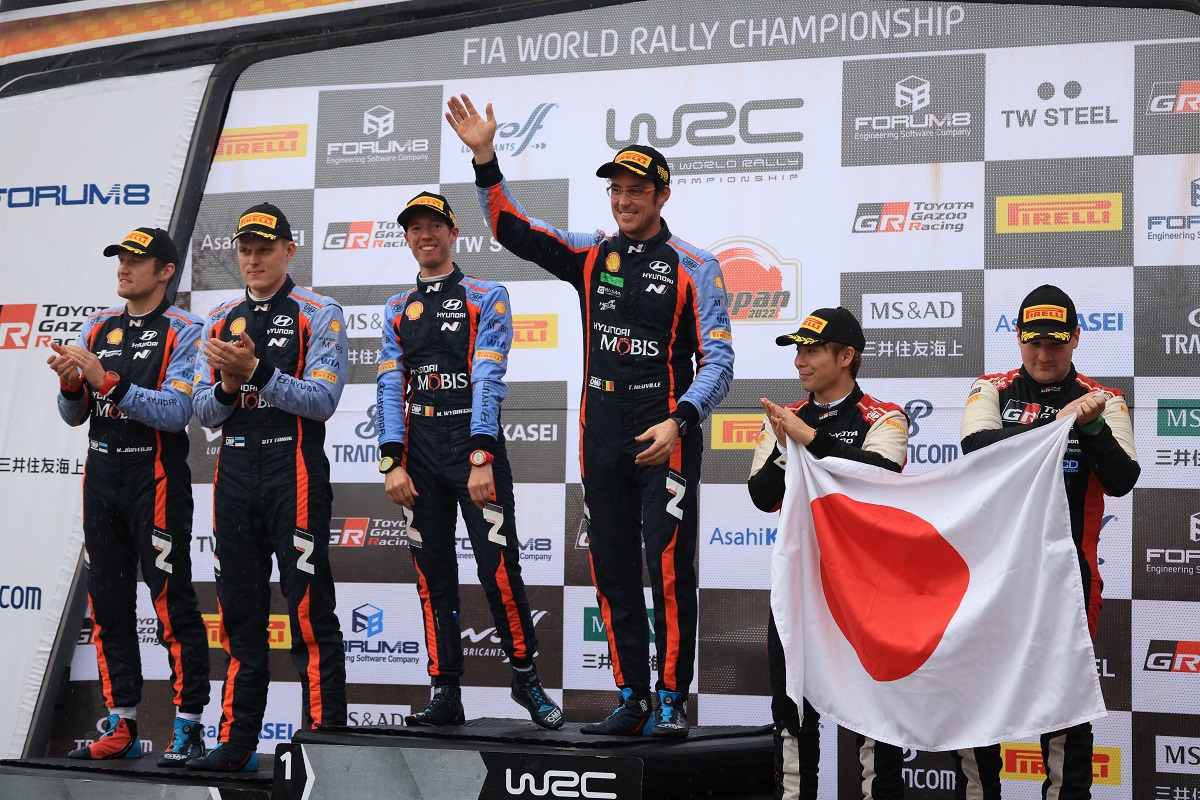 Thierry Neuville and Martijn Wydaeghe are the winners of the 2022 FORUM8 Rally Japan after a day of triumph and despair in the FIA World Rally Championship.
Driving for the Hyundai Shell Mobis World Rally Team, the Belgians headed into Sunday's five-stage route with a foursecond advantage over Toyota Gazoo Racing WRT pair Elfyn Evans and Scott Martin.
But that margin of 4.0s was short-lived as Evans charged to the fastest time on SS15, completing the 7.52-kilometre Asahi Kougen test 3.4s faster than Neuville. The lead was down to 0.6s with Evans in the ascendancy at the wheel of his Toyota GR Yaris Rally1.
"I'm not surprised," Neuville said afterwards. "With the two softs on the rear, we knew we were going to lose some time in the upcoming stages. Once the rain comes, with the wet tyres we should be much quicker. I am relying on the information of the team and according to that there will be a lot of rain."
There was no rain on SS16, only devastation for Evans, who was forced to stop to change a punctured rear-left tyre. "I was probably a tad wide in a right-hander," said the Briton. "The notes were correct, but I didn't get them as early as I needed to slow the car down in time. There was nothing I could do."
Having been 0.6s off the lead in second place, Evans was now down in fourth and 1m47.3s behind leader Neuville.
"It was a challenging stage and I wasn't sure I had done enough," said Neuville, who beat Sébastien Ogier to the stage win by 2.6s. "It's a relief but it's a shame for Elfyn as well. The fight was enjoyable and now it's over, but we still need to be careful."
With victory seemingly his, Neuville adopted a more cautious approach through the final three stages of the rally and the 2022 WRC season, coming home with an advantage of 1m11.1s after a rain-hit Wolf Power Stage.
"It feels great," Neuville said at the final stop line of the year. "It wasn't an easy weekend or an easy year, but to finish witha victory and showing a good speed all weekend is a great way to end the season. Our weather guys did an incredible job this weekend so thanks to them and thanks to everybody."
Evans said: "Naturally pretty gutted really. It's been a tough season and there was a chance here, so we threw everything at it. I'm really sorry I couldn't deliver it for the team at home. As it turned out today I think the win was off the cards but it's a real shame."
Ott Tänak made it a Hyundai 1-2 to secure second place in the final world championship standings behind Toyota's world champion Kalle Rovanperä, whose decision to run on hard-compound tyres slowed his pace considerably in the wet conditions.
Takamoto Katsuta became the first Japanese driver to score a podium on their home round of the WRC in a fine third place. The 29-year-old was overjoyed afterwards: "Huge thanks to the team, and all the supporters on the stages and also on the road sections. Unfortunately, my team-mates had a lot of problems, but I have no words. It was very tricky weather, but we are here."
Ogier, with Vincent Landais co-driving for the first time, overtook Evans on the penultimate stage to claim fourth. Gus Greensmith rounded out the top six for M-Sport Ford World Rally Team, which was boosted by strong performances from Craig Breen and James Fulton, who took their Ford Puma Rally1 to the Power Stage win having also gone fastest on the preceding SS18.
"I'm happy I had the full wets – that was very tricky," Breen said following his SS18 success. "I was only going at 60 per cent."
Breen had dropped out of contention for a top placing when he crashed on SS4 on Friday and his Power Stage success did little to brighten his mood. "It's been another trying weekend and I feel very sorry for everybody involved. We collectively deserve much better results than we've been getting but it just wasn't to be."
While Grégoire Munster won big by taking WRC2 honours, Emil Lindholm won bigger still by capturing the WRC2 title for the first time, a fine achievement for the young Finn and female co-driver Reeta Hämäläinen.
"We've had troubles and difficult times but I am so grateful to the people who continued to support us," Lindholm said."Finally, it seems to be paying off now and I'm just so grateful. It might take a while for this to sink in."
Teemu Suninen took second in WRC2 ahead of Lindholm and ex-Formula One racer Heikki Kovalainen, who completed the top 10 on his world championship debut. Sami Pajari was next up followed by the significantly delayed Rovanperä.
Italian veteran Mauro Miele secured the WRC2 Masters crown, having also set a miraculous second-fastest time on the Power Stage by profiting from slightly drier conditions.